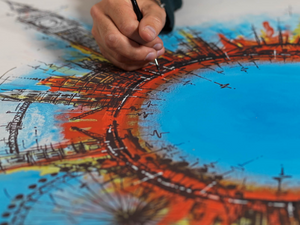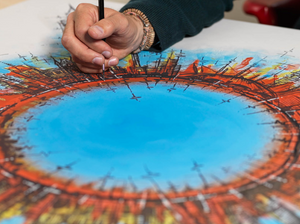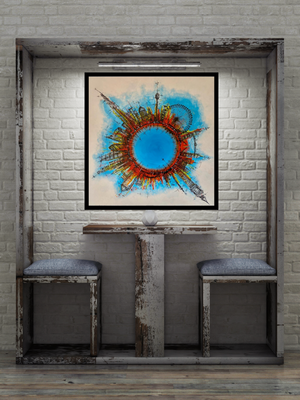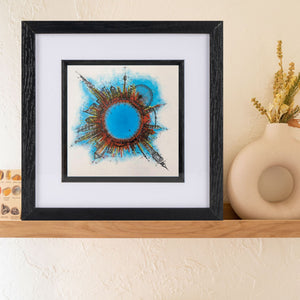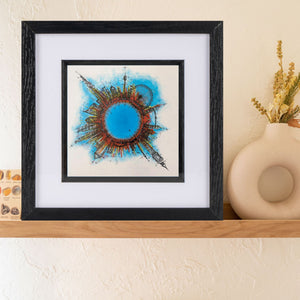 £39-£349 
Awards:
Shades of Blue 2021 Bronze Award Winner, Camelback Gallery
Urban Landscapes 2021 Honorable Mention, J. Mane Gallery
Art Show International's Open Competition, 2021
Being a city skyline artist can be challenging.  After all, city skylines usually don't change all that much.  (Though Doha and Dubai would disagree!)  But our relationship to these cities do change- and often.  A city can be dark and intimidating, it can be serene and beautiful, and it can be exhilarating and full of promise.
"London Heat" was my attempt to capture that sense of exhilaration.  There's an energy to London that is unmistakable.  The city is practically aflame with sound, music, light, and endless possibilities.  That was the London I wanted to celebrate.
The bright red and yellow represents that pure and wild fire that fuels London and practically permeates through every square inch of it.  But that fire isn't destructive- it's creative and inspiring.  The blue is there to remind of us that fact.  It keeps the heat and flame in check but notably doesn't dim them in any way.
~Stephen
If you'd like an original in this style with cities of your choosing, get in touch by clicking on "Message Us" on the lower left side of the page or leave a message here.
These Limited Edition (LE)

 

high quality giclee prints are signed, numbered, and come with a certificate of authenticity. 
Premium Paper: acid-free, archival, gorgeous art matte paper either artist framed or ready to frame upon receipt

Boxed Stretched Canvas: archival, satin finish, gallery wrap.  Ready to hang immediately.
UN-stretched canvas available upon request.  Perfect for international shipping.
Limited Edition Sizes:
Small Mounted Paper (30cm x 30cm): 50
Small Mounted Paper with Black Frame (34cm x 34cm): 50
Large Unframed Paper (60cm x 60cm): 50
Large Framed Paper (75cm x 75cm): 25
Large Unframed Boxed Canvas (95cm x 95cm): 10
Large Boxed Canvas with Black Shadow Frame (1.05m x 1.05m): 10
Get Your Art Now, Pay Later:  Use Klarna at checkout to pay in up to 6 monthly installments.  There's no interest, and you get the art right away!