Gift: Limited Edition Classic Skyline Canvas Print Of Their Choosing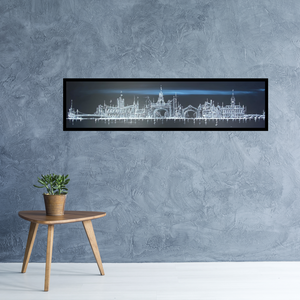 Want to give the gift of art but not sure what they want?  Give them this special gift card that can be used to purchase any canvas print of a Stephen Watkins Classic Skyline piece worth up to £209
FAQ:
What can this be used for?
This gift code can be used on anything at sjwatkins.com, but it is specifically priced to allow the recipient to buy a limited edition canvas print of their choosing from the Classic Skyline collection.  You give them the gift of art, but they choose the specific piece they want up in their home!  If they select a print that is less than £209, they are free to use the remaining balance on anything else in the shop!
Can this be used to buy something that costs more than £209?
Yes!  The gift code can be used to pay for the first £209 of any order at sjwatkins.com
Are shipping and taxes covered?
Taxes are covered by the gift card.  Shipping for paper prints anywhere within the UK is free, but if they are shipping outside of the UK then they may have to pay a small shipping fee.  Typically that fee is about £5 though it can vary.