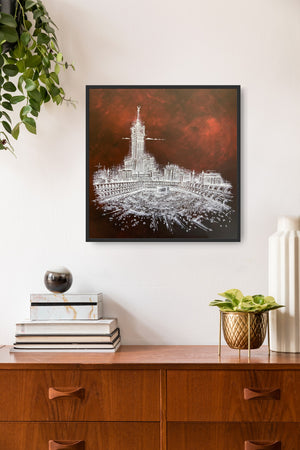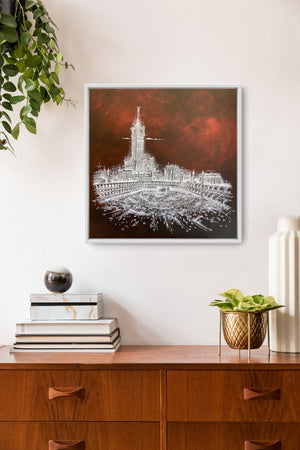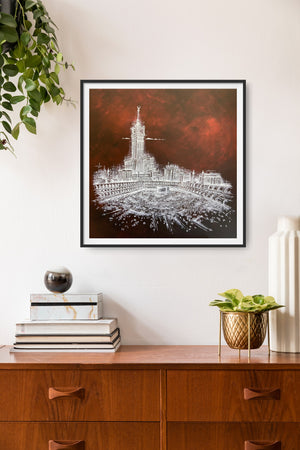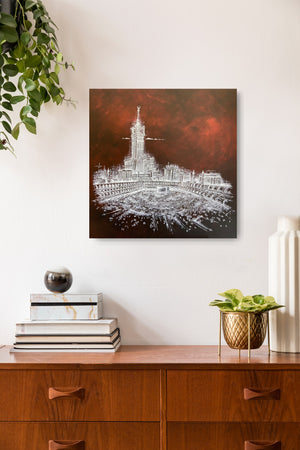 £75-£349 

"A Gathering of Souls" was my attempt to capture the gravity of Ramadan and Makkah but also to celebrate the way they bring people- from family to complete strangers- together.  
I chose the rust-colored background to represent the majesty of the moment captured in the painting is.  But I also used the softer patches of the sky to give the sense of light shining through.  After all, the moment may be solemn, but it's not dark.
The blurring of the white around the cities and people was intended to give the moment a more ethereal feel.  This is about the gathering of souls.  As pure an event as you can find.
I genuinely loved creating this piece, and I hope it inspires in you some of the feelings I hoped it would.
~Stephen
 If you'd like an original in this style, get in touch by clicking on "Message Us" on the lower left side of the page or leave a message here.

These Limited Edition (LE)

 

high quality giclee prints are signed, numbered, and come with a certificate of authenticity.

Available in 2 versions:
Premium Paper: acid-free, archival, gorgeous art matte paper either artist framed or ready to frame upon receipt
Boxed Stretched Canvas: archival, satin finish, gallery wrap.  Ready to hang immediately.
UN-stretched canvas available upon request.  Perfect for international shipping.
Edition Sizes:
Small Mounted Paper (40cm x 40cm): 50
Small Mounted Paper with Black Frame (44cm x 44cm): 50
Large Unframed Paper (60cm x 60cm): 50
Large Framed Paper with Black Frame and White Mount (75cm x 75cm): 25
Large Unframed Boxed Canvas (75cm x 75cm): 25
Large Boxed Canvas with Black Shadow Frame (85cm x 85cm): 25
Get Your Art Now, Pay Later:

  Use SplitIt at checkout to pay in up to 3 monthly installments.  There's no interest, and you get the art right away!