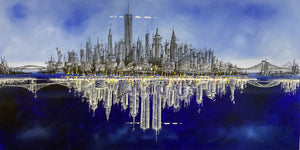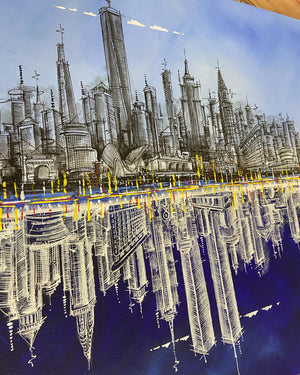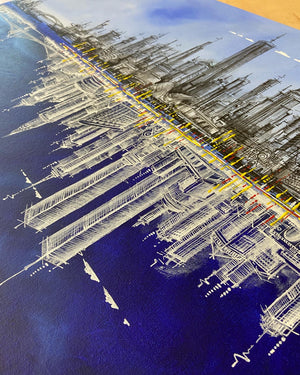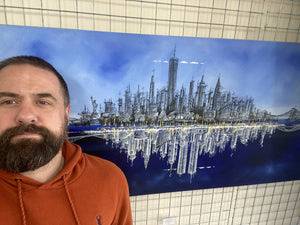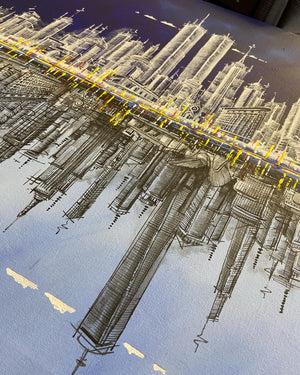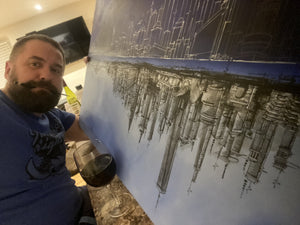 £75-£349

Memories are funny things.  In no small way, they make us who we are.  But if we're not careful, we can become stuck in the past- particularly in the things we may have lost.  And that's really what life is all about: acknowledging that past without letting it define our future.
No one understands that better than New York City.  For me, the challenge here was  acknowledging what once was- because that memory itself represents its resilience as a city and as a people- without losing site of the majesty of what is.
If you look at this piece, you immediately see today's New York City skyline in all of its glory.  But beneath it you can see the somewhat ethereal- but still very present- memory of what once was: the iconic twin towers.
And that space between the memory and the present, that moment of recognition, is what reminds us that our past ultimately leaves us all stronger than ever.
~Stephen
 If you'd like an original in this style, get in touch by clicking on "Message Us" on the lower left side of the page or leave a message here.
These high quality Limited Edition giclee print reproductions are available on two museum quality archival materials:
Premium Paper: acid-free, archival, gorgeous art matte paper either artist framed or ready to frame upon receipt

Boxed Stretched Canvas: archival, satin finish, gallery wrap.  Ready to hang immediately.
UN-stretched canvas available upon request.  Perfect for international shipping.
Each print is signed, numbered, and comes with a certificate of authenticity
Edition Sizes:
Small Mounted Paper (60cm x 35cm): 50
Small Mounted Paper with Black Frame (64cm x 38cm): 50
Large Unframed Paper (1m x 50cm): 50
Large Framed Paper (1.15m x 65cm): 25
Large Unframed Boxed Canvas (1m x 50cm): 25
Large Boxed Canvas with Black Shadow Frame (1.1m x 60cm): 25
Get Your Art Now, Pay Later:  Use Klarna art checkout to pay over several months, interest free, while taking our art home today