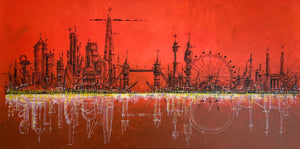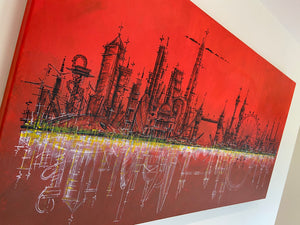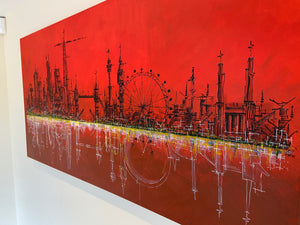 £75-£349

 I often work in relatively light colors when it comes to the backgrounds of my paintings.  And so I challenged myself to create something with a deeper, more eye-catching color.  When I began work on this new piece it also happened to be Autumn, around Halloween.  So I was inspired to create something that evoked that mysterious almost mystical feel of the season.  Enter "Blood Moon"!
Some pieces are a bit of a struggle to get out- you end up creating version after version.  But "Blood Moon" really just flowed right from the brush to the canvas.  It just felt like it was all meant to be.
~Stephen
 If you'd like an original in this style, get in touch by clicking on "Message Us" on the lower left side of the page or leave a message here.
These high quality Limited Edition giclee print reproductions are available on two museum quality archival materials:
Premium Paper: acid-free, archival, gorgeous art matte paper either artist framed or ready to frame upon receipt

Boxed Stretched Canvas: archival, satin finish, gallery wrap.  Ready to hang immediately.
UN-stretched canvas available upon request.  Perfect for international shipping.
Each print is signed, numbered, and comes with a certificate of authenticity
Edition Sizes:
Small Mounted Paper (55cm x 30cm): 50
Small Mounted Paper with Black Frame (59cm x 34cm): 50
Large Unframed Paper (90cm x 40cm): 50
Large Framed Paper (1.05m x 55cm): 25
Large Unframed Boxed Canvas (90cm x 40cm): 25
Large Boxed Canvas with Black Shadow Frame (1m x 50cm): 25
Get Your Art Now, Pay Later:  Use Klarna at checkout to pay in up to 3 monthly installments.  There's no interest, and you get the art right away!